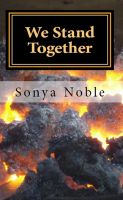 We Stand Together  by: Sonya Noble
Pariah is the only true outcast in an army of futuristic super clones. This is the story where she becomes a part of a team, battles an enemy that consumes and destroys everything in its path, and discovers what it really means to stand by your family and never give up. Get ready for an adventure that will take you to a whole new world.
Buy your copy now by simply clicking on one of the blue links below:
Now available on Amazon kindle! Or, get your choice of e-book format at Smashwords.com.
An Evil Agenda  by: Charlotte Pound
"An Evil Agenda" is an insightful, Bible-based story of endtime spiritual warfare. From the scriptures we know that Satan goes about like a roaring lion, seeking whom he may devour…He seeks to destroy the dearest thing to the heart of God—His Church—the Bride of Christ. In the story, Satan targets the saints from three individual churches—sending depression, temptation and delusion. The author vividly describes the struggle of flesh against spirit, as the Christian characters battle their own personal desires, their conscience and demon forces. It is the ultimate tale of good versus evil.
This novel is a captivating blend of drama, suspense, and end-time spiritual warfare-the ultimate battle of good versus evil. Written from a Christian perspective, this story gives insight into intrinsic beliefs and values based on God's Word. The tale is meant to be entertaining and thought-provoking. With a glimpse into the spirit world, human frailty and divine providence, it is an adventure for the believer and unbeliever alike.
Buy your copy now by simply clicking on one of the blue links below:
Available at Pentecostal Publishing House and Amazon.com.
Annie's Adventures: The Chemistry Calamity!  by: Christina Li
Annie is a ten-year-old homeschool girl who decides to find the perfect project for the local Science Fair. After several false starts and even a few disasters, Annie and her sister, Merri, think they've finally figured out the perfect project. Will they complete it in time? What will the judges think? Read and see!
This book is a 'day in the life' of a homeschool family using the Unit Study approach. At the end, the author gives a book list (used in this Unit Study) as well as several hints and tips on teaching your own Unit Studies at home using items you already have or can get easily through your local library!
Buy your copy now by simply clicking on one of the blue links below:
Your choice of e-book format at Smashwords.com! Also, available  on Amazon kindle, Barnes and Noble NookBook, SundayScholar: Christian Resources–Twentieth Century Delivery,  CurrClick: Home School Curriculum in a Click, and most major retailers around the world.